College Essay & Activity Summary Tutors Wanted
Starting at $19 (in training) up to $100/hr | Flexible Hours | Trusted Company Ranked #1 on Yelp | We Make Great Outcomes Possible
Who? College Zoom is the #1 ranked college admissions counseling service in Los Angeles on Yelp. We help students uniquely develop compelling college applications that change the way that they see themselves and compel admissions officers to recognize their value. No admissions experience is necessary, we developed a unique practicum curriculum and can teach you our methodology.
What? We are looking for tutors who can assist college applicants one-on-one with their college essays or activity summaries. This entails helping students identify the best windows into their lives and assisting them in seeing new angles to those stories and experiences. Every meeting with a student feels like a heart-to-heart.
How? Tutoring sessions can range from 30 minutes to 2 hours at a time. You'll meet with clients virtually.
Compensation? The base pay starts with a probationary training period at $19/hour pro rata while you learn the ropes (mostly offline work, mock sessions, and shadowing). You'll step up to $24/hr rate once you can competently co-lead live client meetings. The training process spans approximately 3 to 4 months. You'll graduate training at $30/hr with raise thresholds up to $100/hr.
When? The admissions counseling season spans June to January (7 months), peaking in November. We also have a second, shorter season for appeals which lasts from March to April (2 months). During these periods, we need employees to be available for 10-20 hours regularly per week. Note: students seek meetings after school in the afternoons and evenings, and weekends.
Fun? We have fun team dinners and bonding events throughout the year. We also treat a handful of students to dinner with their families to celebrate their successes.
Scheduling is Flexible! We want tutors to enjoy the work they do with students and never feel overworked or overwhelmed by balancing College Zoom with other important obligations in their life. Our best tutors are ambitious people inspired and enriched by pursuits beyond college counseling. While with us, we'll invest in training you to adopt a multitude of transferrable hard and soft skills that will propel you in in your other purposeful endeavors.
No Nightmare Students is Our Goal! College Zoom is fortunate enough to be in a position where we can (and do) politely decline to guide students who show signs of non-compliance, disrespect, and laziness. Hence, the students you'll be working with are genuinely motivated and eager to seek your advice.
Residency: College Zoom prefers to hire residents of California, Arizona, and Texas. Those are the states where we satisfy existing requirements for workers compensation coverage and state-specific payroll tax withholding processes. However, in the post-COVID era we are now open to hiring residents of other states, but still prefer employees to be in the Pacific, Mountain or Central Time Zones. All employees must be U.S. citizens.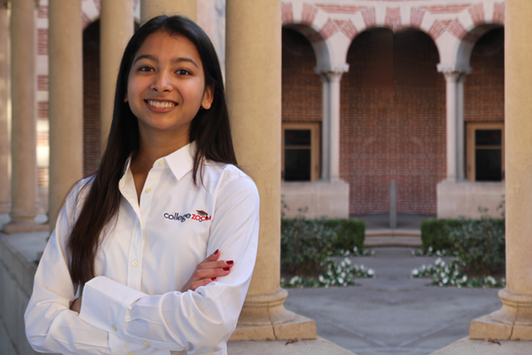 "A job that opened doors"
"I interviewed with College Zoom initially just for my own interview practice, but once I saw how innovative and real-world applicable the skills I learned were, I knew it was a job I wanted to keep. College Zoom has not only changed the way I show up as a leader in my labs and extracurriculars, but it's also helped me win over $17,500 in recurring annual scholarships and get into medical school on a full-ride scholarship."
— Nina Singh
NYU Medical School, MD Candidate
Class of 2023
USC Class of 2019
Thematic Option (Honors Program)
Astronaut Scholarship Foundation Winner
Barry Goldwater Scholarship Winner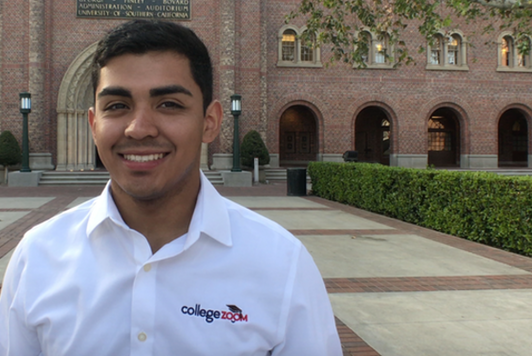 "Working on my own schedule"
"I love that the flexibility, nature of work, and supportive team environment allow me to make a difference in someone else's life while working on my own goals and schedule."
— Adam Espinoza
USC Class of 2019
Computer Science and Business Administration
Code2040 Fellow
USC Triathlon Team
Past internships at Riot Games and Ebay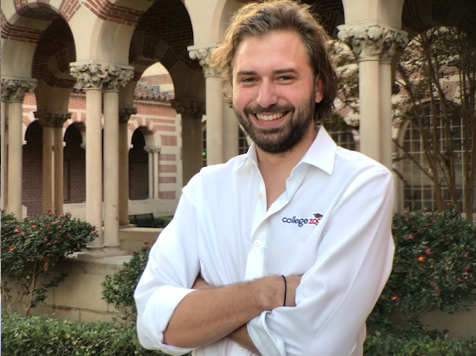 "Everyone here is ingenious"
David's a stellar boss, investing so much into helping everyone on the team grow to maximize their potential. It's such an honor working and learning alongside brilliant co-workers while helping great kids build their futures.
— Jackson Burgess
Graduated from the #1 Ranked
Iowa Writer's Workshop MFA
USC, Class of 2015
Beau J. Boudreaux Fellowship for Poetry
Mark Greenberg Fellowship for Poetry
Provost's Undergraduate Research Fellowship
Trustee Scholarship
Thematic Option Honors Program