The Top Financial Aid Tips Your Family Should Know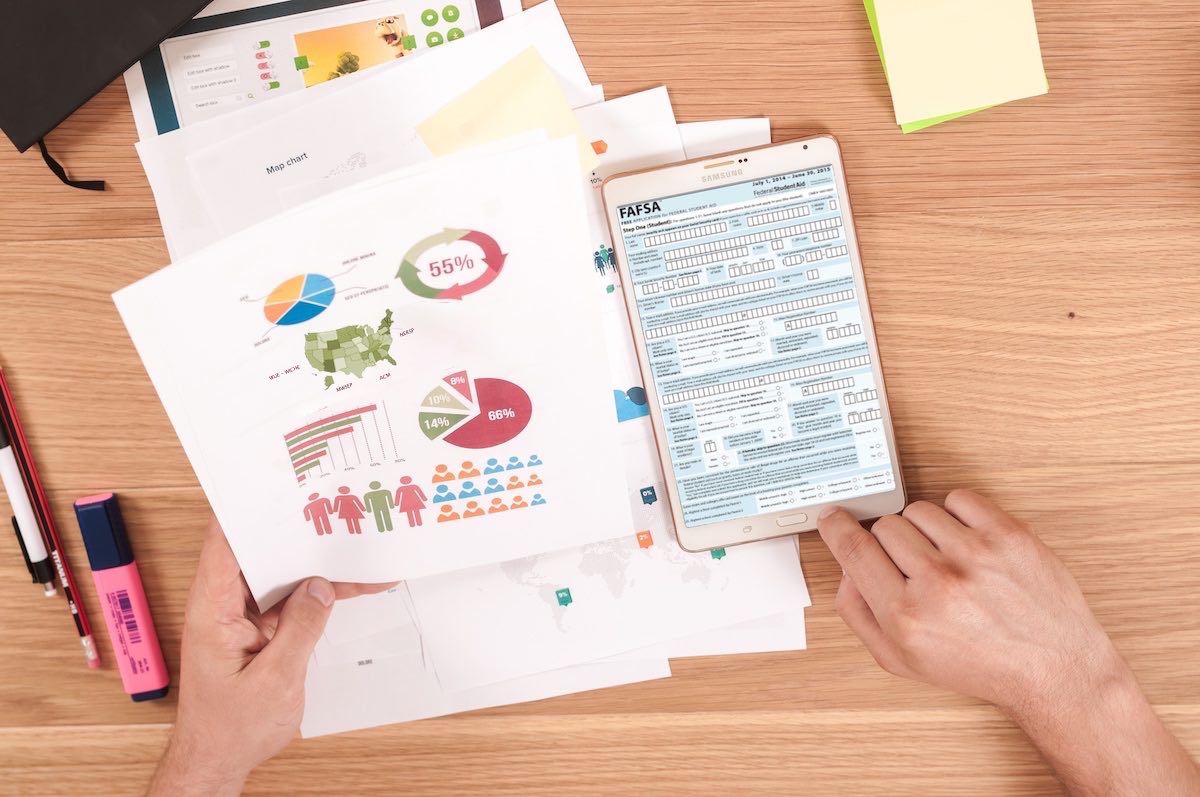 The Top Financial Aid Tips Your Family Should Know
This article was last updated on April. 11, 2018.
The Huffington Post article, "Colleges Play Monopoly" provides great insights as to why the costs of college is so high. However, there are some things you should be aware of when it comes to lowering the cost of college:
Surprising FAFSA Facts:
1. The FAFSA application is not only for need-based aid. The FAFSA may determine financial aid for merit scholarships, athletics, etc. So, even if you feel your income is too high to quality for need-based aid, you should still file and file as early as possible.
2. 70% of financial aid goes unclaimed. People assume they won't qualify or don't file on time. Even, if you're only offered loans, the loans will be federally subsidized loans that offer significant advantages over private loans.
3. Filing the FAFSA is easier than ever. The IRS's new Data Retrieval Tool automatically populates your FAFSA with your correct tax information. Learn more.
4. People who file the FAFSA early get more money than those who apply later. Think: first come, first serve. Applications in the front of the line are considered for larger awards, grants, merit aid, need-based aid, athletic aid, etc. than applications received closer to the actual deadline.
5. If you lose your job, colleges will work with you if you submitted the FAFSA in previous years. Filing the FAFSA every year is a safety net for your family.
6. You are guaranteed at least $2,600 in some sort of aid. Just file on time. Even affluent families are guaranteed.
Scholarships:
7. Locate third-party scholarships easily. You can use the Common App's Scholar Snapp (which is integrated into the Common App itself), CollegeBoard's Fund Finder, Chegg, Scholly and Unigo (to name a few) to find competitive scholarship and grant opportunities that you'll be eligible for. There are also many other scholarship search engines you can use for free. A comprehensive list of other free scholarship search websites can be found here.
8. Easy Micro-Scholarships (A Must): Visit RaiseMe and create an achievement profile. Starting as early as 9th grade, colleges you "follow" through RaiseMe will award you micro scholarships for your achievements that you'll get if you attend their institution.
Additionally, the College Board is now offering a chance to win scholarships from $500 to $40,000 and all you have to do in order to enter each drawing is complete step that you will anyway for college preparation. For example, building your college list.
9. There may be local scholarships exclusive to your high school: Ask your school counselor about any scholarships that members of your community offer to students at your school. These likely won't be found on any websites, you also might have less competition for them.
10. Find college-specific scholarships: Google "[college name] freshmen scholarships" to find scholarships that alumni of your desired universities make available to accepted students who enroll. These will only be found on a college's website. For example, here are scholarships offered at USC and UCLA.
11. Automatic Scholarships: Your college application might be (positively) flagged for merit scholarship consideration during the review process without any further work on your part. Sometimes, you may need to submit your application earlier by a certain deadline to be considered. USC, for example, has a Dec. 1st deadline for scholarship consideration and a Jan. 15th regular deadline.
Other colleges, likely your safety schools, will still automatically consider you for scholarships as long as you apply by the regular deadline. The best way to maximize your chances for winning these kinds of scholarships are: getting high grades (even if you're late to the academic game: substantial improvement still helps and investing extra care into your college application. Safety schools where your academics position you to be in the top 25% of applicants will likely be the most generous to you.
Tuition Reduction Programs:
12. You can qualify for in-state tuition at out-of-state colleges. Regional tuition exchange programs exist where you can go to an out-of-state college and pay in-state or reduced tuition as if you were a resident. It's like a scholarship, except it's much easier to qualify for it and get it. You just need to study under a qualifying major, which at some colleges could be every major, and meet a GPA requirement, typically around a 3.5 for the most popular colleges. Visit the regional tuition exchange program website that your state is a member of and discover which out-of-state colleges will give you a massive price break:
Transferring Can Reduce Tuition Costs:
13. Saving 50% off tuition: If you want a guaranteed way to instantly reduce your cost of college by 50%, attend a 2-year, community college and transfer. This is called a vertical transfer. This is what George Lucas did when he transferred from Modesto Junior College to the University of Southern California. The community college will never appear on the diploma of your 4-year degree and employers will ever know that you transferred. It'll look as thought you attended your 4-year college for all 4 years. Also, attending community college will not negatively affect your chances of eventually getting into medical or law school.
14. Saving 20-30% off tuition: If you want a quintessential freshman year experience at a 4-year college but still want to save money, you can attend (1) a public 4-year college where you'll pay in-state tuition, (2) a private 4-year college that gives you great scholarships, or (3) an out-of-state public 4-year college where you qualify for the tuition exchange program and then transfer. Transferring from a cheaper 4-year college to another 4-year college is called a horizontal transfer. It may save you 20-30% on what you would have spent by attending the more expensive college for all four years.
Common Misconceptions:
15. Private vs Public College Perceived Cost vs. Actual Cost. Many students initially assume that a private college will inherently be very expensive. But, that isn't necessarily true. Public schools may have a lower "sticker price", which is the advertised, full cost of tuition before your financial aid is factored in. However, it's not uncommon for private schools to offer more need-based or merit financial aid—or general tuition discounts—that can make the final price tag cheaper than a public school.
For students from families of working class backgrounds, attending an Ivy League college could be free or cheaper than their local public university. So, explore both private and public schools in your college search. Don't automatically assume that more prestigious colleges are more expensive. Elite private schools usually have more latitude when it comes to offering university grants, however, their decision on who to award these grants to and how much money to distribute is determined on a case-by-case basis. Therefore, your results may vary.
16. Out-of-state college might cost more than private colleges. Example: a California resident attended the University of Colorado at Boulder (out-of-state public college) and paid out-of-state tuition (approx. $26,000/year). He transferred to the University of San Diego (a $38,150/year private school) and ended up paying half the amount he was paying at CU Boulder.
Colleges promote artificially high "sticker prices" because very wealthy families will pay it and the federal government backs everyone else—it's like printing free money from the colleges' perspective. For instance, when a family's federal aid won't cover the cost of tuition (which happens in most cases), private schools may still award significant tuition discounts to make the tuition more affordable. On the other hand, public colleges that cost less may not be as generous with their discretionary aid budget and may expect you to pay a larger percentage of your tuition bill than a private college.
Predicting How Much Financial Aid You'll Get:
17. Net Cost Calculators. A net cost calculator is a tool that every college makes available to families so they can estimate their net price of attending the college. "Net" means the price you end up paying after all of your discounts are applied and it only takes 2 to 4 minutes per college. To find the net cost calculator for your colleges, Google: "[name of college] net price calculator".
For example:
USC Net Price Calculator
UCLA Net Price Calculator
UC Berkeley Net Price Calculator
Harvard Net Price Calculator
UPenn Net Price Calculator
Stanford Net Price Calculator
Duke University Net Price Calculator
University of Texas – Austin Net Price Calculator
University of Washington – Seattle Net Price Calculator
UC Santa Barbara Net Price Calculator
NYU Net Price Calculator
Boston University Net Price Calculator
18. CSS Profile The CSS (College Scholarship Service) Profile is used by private colleges to determine if you qualify for non-federal aid that's funded by the college itself (e.g. funds from the college's private endowment). For steps on how to file, see below:
Need Based Aid:
19. Is your family's income below $165,000 a year? You family may quality for the University of California's Middle Class Scholarship Program (10% to 40% tuition reduction). Click here for details (California residents only).
20. Is your family's income below $80,000 a year? If your family's income is below $80,000 you may qualify for the University of California's Blue + Gold Opportunity (free tuition) Plan. Click here for details (California residents only). If your household income is below $65,000, you may also qualify for free tuition at Ivy League colleges, like Harvard (residency doesn't matter).
Action steps for the official financial aid applications:
FAFSA Action Steps:
The Free Application for Federal Student Aid (FAFSA), which is free and has not cost to file, qualities you for federal aid:
1) The calendar year beginning January 1st of your student's "prior prior" year to enrolling at college will be the base year for federal financial aid awards. For example, if you are going to start college in the Fall of 2018, your award will be based on your household's 2016 income.
2) To maximize your award, file the FAFSA as soon after October 1st as possible in the year that you'll be applying to colleges. For example, if you are a high school student you should file the FAFSA as soon after Oct. 1st in your senior year as possible. Then, your parents will use their US tax return from your junior year to complete the FAFSA.
3) Tip: if you're from a separated or divorced family and you want to know who your parent should be when you fill out the FAFSA, see this infographic.
4) If your family's financial situation changes, you'll need to appeal your financial aid award when you get it. The FAFSA is only based on historical data. But, the financial aid office and action ac installation & heating of san Diego, at each college has the flexibility to grant you more aid for special circumstances that can't be measured by historical data. For example, unanticipated medical bills, planned investments, irregular income, etc.
5) Continue filing the FAFSA every year to create a safety net just in case one of your parents loses a job or the economy sours.
Click here to visit the FAFSA website.
CSS Profile Action Steps:
The CSS (College Scholarship Service) Profile is used by private colleges to determine if you qualify for non-federal aid that's funded by the college itself (e.g. funds from the college's private endowment). There is a $25 filing fee.
1) Visit: https://student.collegeboard.org/css-financial-aid-profile to file
2) Read this article about maximizing your aid.
3) There is no single deadline for the CSS Profile. Each school has a different set of deadlines, and that will likely not match up with the college's admissions application deadlines. However, the CSS profile can be submitted after Oct. 1st and because available aid diminishes over time, file as early as you possibly can. The following are deadlines you should not exceed:.
If you are applying Early Decision or Early Action, most colleges will have an Early Filing deadline which is the date by which they want to receive the CSS Profile, which may be Nov. 1st.
If you are applying Regular Decision, you'll want to meet the college's Priority Filing deadline. This is the date by which the schools want to have the CSS Profile filed by Regular Decision applicants.
Click here to visit the CSS Profile website.